LEARNER ADVERTISEMENT
03 May 2018
Ligwalagwala Trade Institute is hereby advertising the following learner positions:
Leaners must have passed NQF L2

Learners must have Grade 12

Learners must have Maths & Science in Grade 12

Learners shall be doing NQF L3 & NQF L4

The closing date shall be 31 May 2018

Learners must be between 16year and 35 years old.

Only 15 learners are required for this project

Government shall be funding for these needy and desperate learners
For further information, please call:
Ligwalagwala Trade Institute (Pty)Ltd - (LTI) is an accredited institute by the government body MerSeta. Ligwalagwala is a trade institute established with the vision of:
Changing the lives of the people in the community with equipped skills relevant to the development of the economy of the Africa.
Training individuals and companies in the trade of different qualification skills.
South Africa's deputy minister of higher education & training, Mduduzi Manana, has been on a crusade to encourage young people and learners to take up engineering trades as a career choice.
SA needs to scale up the training of artisans to meet the National Development Plan targets of producing 30 000 artisans a year by 2030. At present, the country produces 13 000 artisans a year across all trades, and 72% of these are trained by private institutions like Legwalagwala Trade Institute.
Shortages range from construction to the engineering, mining, manufacturing and energy industries. In particular, says Sean Jones, CEO of the Artisan Training Institute, gaps exist in the supply of heavy-equipment technicians (earth-moving equipment and tractors). Riggers, boilermakers, welders, fitters and turners and instrumentation technicians are also in short supply in the mining and engineering sectors.
In the building trades, there have been reports of poor quality work by supposedly qualified people. Many other sectors and municipalities cannot find the skills they need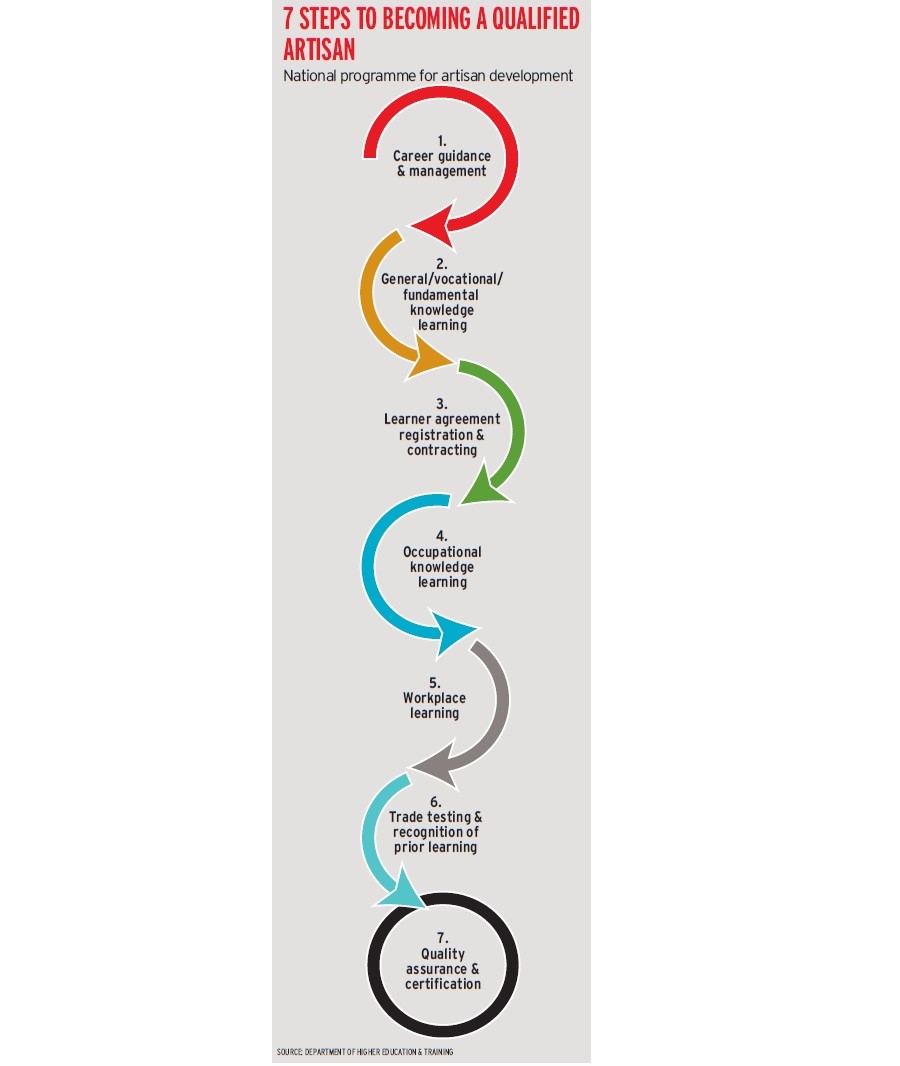 says this is partly due to poorly trained artisans, older artisans emigrating and not enough new ones being trained.
Manana says SA may be forced to import skills if it doesn't produce more artisans.
"At the centre of government's plans to grow the economy and its infrastructure development. Without artisans, technicians and engineers, we cannot grow the economy at the pace that is required."
Employers often complain about colleges sending candidates who are not adequately prepared.
Manana says SA has more artisan learners in the system, but many do not complete their training because of "deficiencies in the system".
One of the problems is that while private providers of training mainly recruit learners with good mathematics and science marks in matric, public colleges have been less concerned about this.
Another factor is that many students who go to public technical and vocational colleges are not as motivated as their peers going to university, because of SA's historical emphasis on university education.
Jones, however, says there's no need to panic yet. "We do have a shortage of artisans and the problem is related to the quality of qualified artisans [poor training] and to actual gaps vs job requirements. That said, with the mining sector in crisis and the weak rand associated with economic and socio-political uncertainty, one can question the short-term shortage as retrenchments have affected thousands [of workers], including artisans."
He adds that the multibillion-rand infrastructure programme that government has been talking about for the past few years has yet to materialise.
"Artisans need workplace exposure to qualify. In a poor economy there is less opportunity for this to happen. The municipalities and parastatals can play a big role in this regard to increase numbers," he says.
Jones cautions against merely chasing numbers without a focus on quality. "It is pointless training thousands of youth if the quality of the outcomes is poor and their employability is in question. Quality training needs to be part of this target."
In dealing with the poor quality of graduates, Manana says the department has redefined the artisan trajectory following a comprehensive review and international benchmarking. The National Artisan Moderation Body has been established. After extensive consultation with the industry, a seven-step approach was developed for anyone wanting to qualify as an artisan. It now takes between three and four years to train to be an artisan.
Quality assurance has been centralised within this body. The department is taking steps to ensure that colleges enrol suitably qualified learners and that there is support for those who need special attention.
Foundation programmes for learners who did not get good maths and science marks are being set up in many colleges before they are put in their specific trades programme.
Manana says the emphasis on university education is not going to take SA forward. For a developing nation, technical skills are more important than professional university degrees.
He says SA could learn from Germany, which has built its economy on technical skills. The plan for SA is to have a ratio of three technical and vocational college students to one university student by the year 2030.
The Importance of Welding Education
Welding, in one form or another, has been an integral part of the work performed by the United Association for nearly 100 years. While the technology of welding has evolved dramatically during that period of time, the need for skilled welders in our industry is greater than ever.
Today's welder must be proficient in multiple welding processes. At the very minimum, he or she must be able to weld all manner of piping using the manual SMAW and GTAW processes, but the necessary skills sets do not stop there.
Training for welders should include a variety of automatic and semi-automatic orbital welding processes. These are necessary skills for meeting the stringent demands of the high-purity piping industry. High purity is an industry within our industry developing out of the manufacture of computer chip and pharmaceutical products. Orbital processes are becoming the preferred method of welding on pipelines, heavy industrial plants such as chemical and refining operations, and also nuclear and conventional power production plants.
It is becoming commonplace for welders to operate semi-automatic welding equipment remotely. This is done through the use of modern fibre-optic cameras allowing the welder to watch the welding operation on a video monitor. As an example, this process is used in nuclear plants during intensive welding operations during steam generator change-outs, or for re-piping projects in highly radioactive areas. The remote operation of the welding equipment limits exposure to radiation.
A Skilled Labour Shortage
Today's need for highly trained welders is compounded by the fact that the construction industry is experiencing a skilled worker shortage — and predictions reveal it may get worse. The Bureau of Labour Statistics (BLS) states that the average construction worker is 47 years old, and as aging Baby Boomers retire or leave the industry, they take much-needed skills with them.
The Bureau of Labour Statistics estimates that the construction field will need to attract 240,000 workers each year to replace those leaving the workforce, while still allowing for industry growth. BLS statistics also reveal that 450,000 welders will be needed nationwide by 2014.
To find enough individuals to fill that tall order, the construction industry must turn its attention to recruitment and extensive training. The recruitment process must examine and reach out to those segments of our country's population which have experienced alarmingly high levels of unemployment. There are many thousands of Americans who have not yet found careers that match their talents or meet their needs. They look forward to the day when they can find fulfilling employment that will enable them to earn a decent living. It's all a matter of connecting the right people with the right jobs — and the right training.
Recruiting Programs
Recently, the United Association has been recruiting and training members of two different segments of society that have been experiencing employment difficulties.
In 2008, the UA reached out to Native American communities across the country to provide them with employment training. Unemployment is a major problem for many Native Americans.
For example, the unemployment rate in the Navajo Nation is currently 50 percent — twice America's 25 percent rate in 1933 during the Great Depression. Training programs for Native Americans, which include an accelerated welding program, are already underway in Illinois and Arizona. The welding program helps Native Americans to enter the workforce quickly, with skills that are in great demand.
Additionally, the UA has initiated a training program for veterans returning from military service.
According to U.S. Marine Corps' Major General (Ret.) Matt Caulfield, the unemployment rate of U.S. armed services veterans, aged 22-24, has reached as high as three times the rate of non-veterans in the same age group.
The Veterans in Piping (VIP) Program was launched in the state of Washington in late 2008 with the support of Major General Caulfield and America's military forces. This new program includes a transitioning component to help returning military personnel to adjust to civilian life. The accelerated welding program is also a part of this program. Helping the veterans to re-enter the civilian world is another level of training that cannot be overlooked. Currently, the UA is setting up the program at Camp Pendleton in California.
Anyone involved in construction trade education will agree that the training of pipe welders takes longer and is more expensive than any other discipline of our trade. But, in today's complex world, that training is an absolute necessity. And, because technology is continuously changing and advancing, quality welding training will always be an ongoing process requiring regular updates, so that today's welders will be able to meet the challenges of tomorrow.
Ligwalagwala Trade Institute is a body that would be ideal and qualified to deliver the necessary skills to communities willing to take the opportunity of registering and getting trained with the institute to open up and increase the opportunities for them to be employable.
Our training is what you are looking for, depth and prepares the student for future prospects.
-Student shall be well vested with the course taken.
-All courses offered are exciting to do and only hard work and dedication is required.
-Our courses are offered for a minimum duration of 1 month with the exception of grinding, drill handling, and polishing courses.
-These qualifications enable students from the tertiary institutions, matriculants and all as long as you are able to read and write.
-We cannot offer less than 1 month courses because the institute's mission is to produce quality and well informed students.
-The institute accepts a small number of students at a time for the period term (1 month) to ensure proper attention and quality training.
-The institute is approved and authorised by SAQA through Merseta. The institute's accreditation number is 17-QA/ACC/1221/16. You need to ensure that you deal with the accredited institution to validate your qualification/ certificate.
artisans, skills and development centre artisans, skills and development centre artisans, skills and development centre artisans, skills and development centre artisans, skills and development centre artisans, skills and development centre artisans, skills and development centre artisans, skills and development centre artisans, skills and development centre artisans, skills and development centre Germinston Germinston Germinston Germinston Germinston Germinston Germinston Germinston